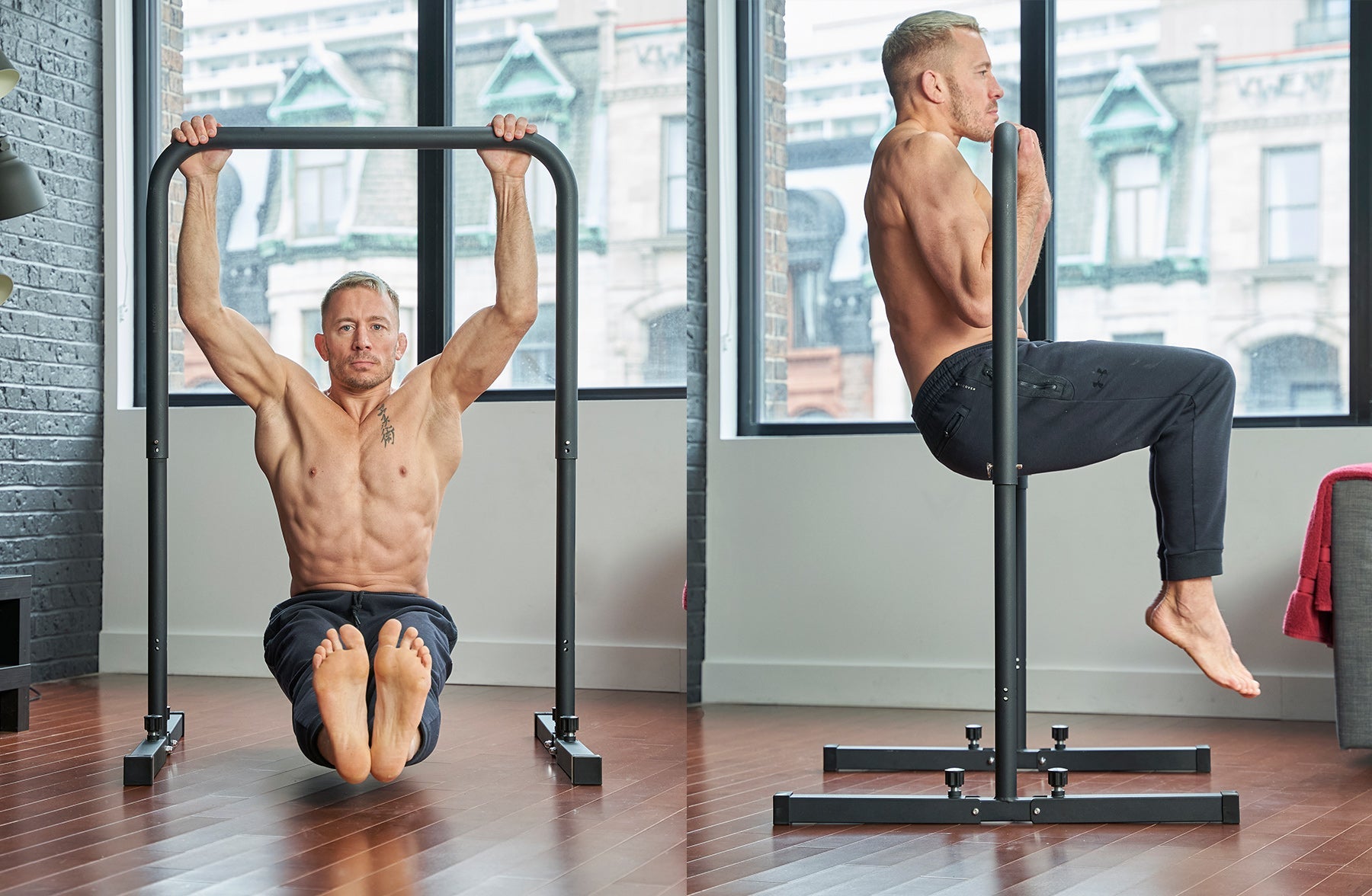 BASEBAR PRO
€199,00
Compare to BaseBar
Meet the BaseBar Pro – the debut product in the Georges St-Pierre collection. Height-adjustable for a complete back workout and foldable feet for easy storage. Perform horizontal pulling exercises on the 92cm height (rows and levers) and vertical pulling and core exercises on the 138cm height (pull-ups and leg raises). Fast setup with quick-release clickpins and feet that fold, then rotate for flat, compact storage. Completely freestanding and travel friendly – take your workout anywhere.
This item is currently back-ordered. All orders will be dispatched on Nov 30. Cancel anytime before the shipping date.
Assembly time: setup and pack away in approx. three minutes
Floorspace: 88.5cm x 85cm (about the area size of a single seat sofa)
Storage dimensions: 5cm x 110cm (slides under the bed or stores behind your door)
Bar width: 88.5cm
Max loading capacity: 300kg
Height: 92cm and 138cm
Width: 88.5cm
Material: powder coated steel
Product weight: 10kg
We offer free shipping to Austria, Belgium, Croatia, Denmark, Finland, France, Germany, Greece, Hungary, Ireland, Italy, Netherlands, Poland, Spain, and Sweden.
For orders placed outside of the countries listed above, please email hello@baseblocks.fit for a shipping quote.
You can return the item within 100-days of receiving your order for a refund less the cost of return shipping.
It rarely happens, but if there's anything wrong with the functional elements of the equipment, we'll fix it for free. Read about our Warranty and Return Policy here.
BUILD A STRONG BACK
Adjusts to two heights (92cm and 138cm). Master your bodyweight with pull-ups, rows and levers.
UNLOCK ADVANCED MOVEMENTS
Add new exercises to your workouts. Use exercise progressions and resistance bands to build up to advanced exercises.
HIT YOUR CORE
Build a strong and durable mid-section with hanging ab exercise like knee raises, leg raises and windshield wipers.
BUILD A BALANCED BODY
Add stretch to your strength training. Perform Flexibility exercises to develop mobile joints.
TWO HEIGHTS


Adjusts to 92cm and 138cm
COMPACT


Easy to store
FOLDABLE LEGS


Quick setup