BASEBLOCKS X
A limited edition version of our hero product with vintage aesthetics.
Full-body calisthenics workouts
Perform bodyweight exercises that require strength and mobility. Over fifty exercises for your upper body, lower body and core.
Suitable for all levels
Workouts for any strength level. Progress to harder variations of the exercises as you get stronger.
New design. Vintage look.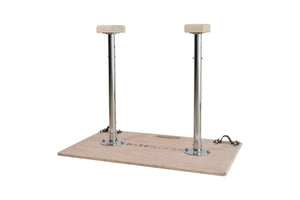 BASEBLOCKS X
Designed for users to perform calisthenics workouts at home. Perform over fifty exercises for your upper body, lower body and core. Adjusts to nine different heights; scale the intensity based on your strength level. Completely portable and assembled in seconds.
BaseBlocks Base: 35" x 19"
Adjustable Uprights: 20" - 32"
The Blocks: 6.5" x 3.5" x 1.5"
Storage Dimensions: 35" x 19" x 6.5"
Product Weight: 25lbs.
Recommended User Weight Limit: 210lbs.
Not suitable for children under 16 years old.
We are so confident you will love the BaseBlocks, if it doesn?™t become your new favourite workout tool, you can send it back and we will provide you with a refund.
We offer free shipping to Austria, Belgium, Croatia, Denmark, Finland, France, Germany, Greece, Hungary, Ireland, Italy, Netherlands, Poland, Spain, and Sweden.
For orders placed outside of the countries listed above, please email hello@baseblocks.fit for a shipping quote.