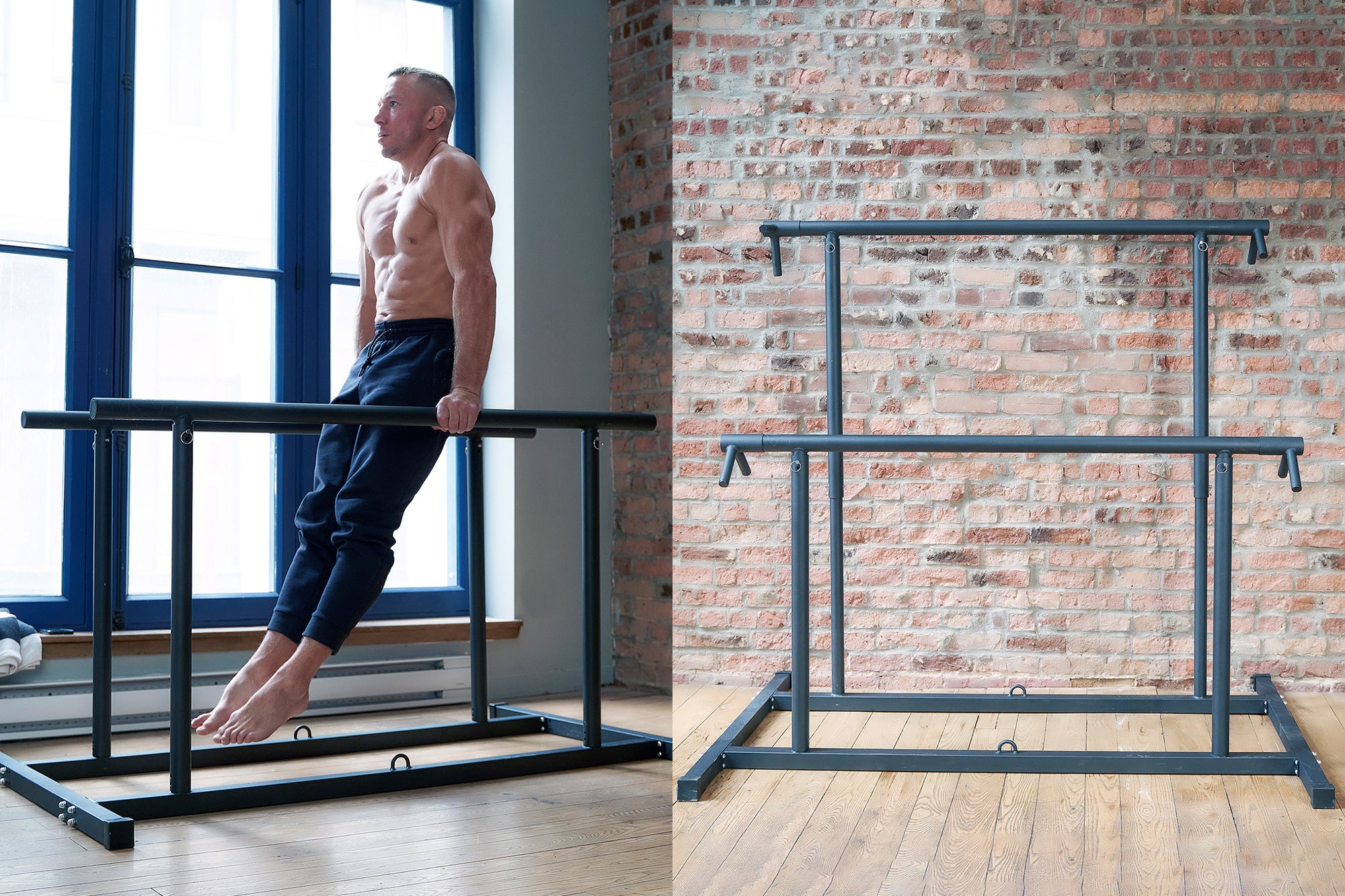 THE B-BARS PRO
€389,00
Compare to The B-Bars
Meet the B-Bars Pro. The most versatile piece of upper body equipment, designed by Georges St-Pierre. Build a strong upper body and core with gymnastics workouts at home. Assembled to three different heights; pull-up bars (150cm), parallel bars (95cm) and parallettes (20cm). Perform any body weight exercise in your living room. Completely standalone and built for swinging and explosive exercises. Band friendly making it suitable for beginners and advanced athletes, and two width options for all shapes and sizes.
This item is a pre-order scheduled to ship on Nov 5. Orders are subject to availability. Cancel anytime before your order ships.
Assembly time: setup in about 15 minutes
Floorspace: 160 x 94cm (about the size of a two-seat sofa)
Storage: not designed to be disassembled after each use
Max loading capacity: 500kg
Heights: 20cm (parallettes), 95cm (parallel bars) and 150cm (pull-up bars)
Widths: 44cm or 47cm
Bar diameter: 4.4cm
Material: steel
Product weight: 27kg
We offer free shipping to Austria, Belgium, Croatia, Denmark, Finland, France, Germany, Greece, Hungary, Ireland, Italy, Netherlands, Poland, Spain, and Sweden.
For orders placed outside of the countries listed above, please email hello@baseblocks.fit for a shipping quote.
You can return the item within 100-days of receiving your order for a refund less the cost of return shipping.
It rarely happens, but if there's anything wrong with the functional elements of the equipment, we'll fix it for free. Read about our Warranty and Return Policy here.
COMPLETE UPPER BODY STRENGTH
Perform every pressing, pulling and core calisthenics exercise. Band friendly – suitable for all training levels.
ADJUSTS TO THREE HEIGHTS
Practice handstands on the low bars, swinging exercises on the medium bars and hanging exercises on the high bars.
SUITABLE FOR ALL LEVELS
Build strength, co-ordination, power and stability. Perform explosive movements on the medium bars like swinging dips, and swinging handstands.
THICK
BAR
DIAMETER
Build Grip Strength
ADD
EXTRA
RESISTANCE
Band Friendly